Workers' Compensation
Staunton Workers Compensation Attorney
We Fight for Injured Workers throughout Central Virginia
The workers' compensation program was designed to provide compensation for employees injured on the job or who contract an occupational condition. However, it can be difficult for employees to obtain the benefits they need. The workers comp system is complex, and mistakes in filing can delay or even deny your vital compensation.
If you are having trouble getting the benefits you need and are owed, call Tucker Griffin Barnes. Our Staunton workers' compensation lawyers handle cases on a contingency fee basis. You won't pay any legal fees until you receive a settlement or award.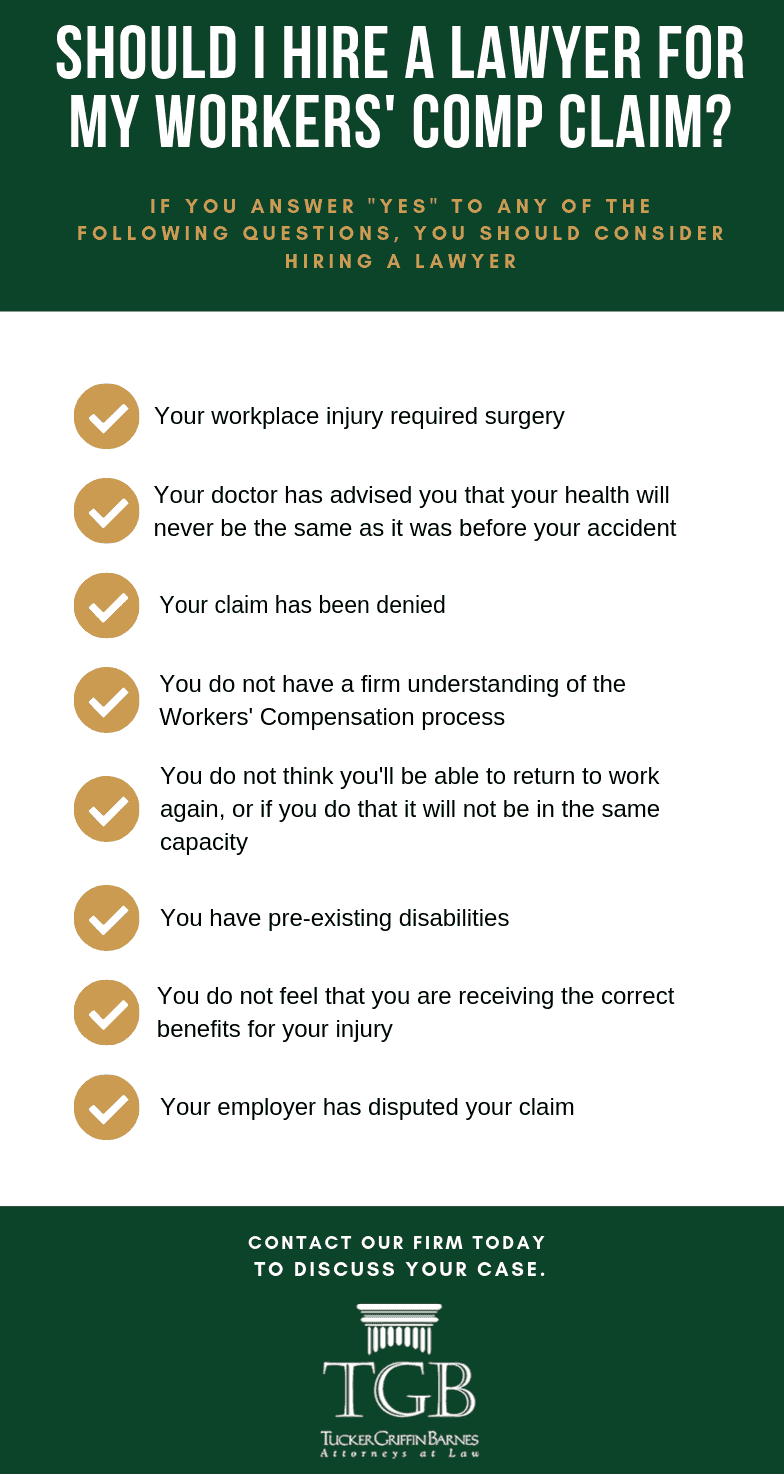 Workers' Compensation Benefits in Virginia
In Virginia, employers with three or more employees are required to provide benefits under the Workers' Compensation Act. Your employer's insurance provider is required to pay for any medical treatment you need as a result of your injury. This includes medication and treatment with an authorized physician. This also covers specialists or therapists to which you are referred for your work-related injury or illness.
The medical benefits include the cost of:
Physicians
Hospital visits
Surgeries or medical procedures
Rehabilitation
Medications
Mileage for travel to and from medical visits
In addition, injured workers receive compensation for lost wages if they are unable to work during their recovery. You will receive 2/3 of your average weekly wage if you are unable to work. Workers' compensation benefits are tax free! It is best to seek advice from an attorney so you can understand how the law applies to your situation.
"Ms. Hakes, Thank you so much!"

Criminal Defense Client

"Yvonne and her staff are very competent and trustworthy and they went above and beyond in their service to my family member."

Personal Injury Client

"I truly appreciated your perspectives & advice throughout this process."

Personal Injury Client

Filing a Workers' Compensation Claim
Our Staunton workers' compensation attorneys provide experienced, compassionate representation for injured workers and fight for the best interests of our clients. It is important to follow the rules for filing a claim.
You must file a claim with the Workers' Compensation Commission within two years of the date of your injury. With occupational illness, you have two years from the date you learned of the condition to file a claim. Alternatively, you have five years from the date of last exposure, whichever is sooner.
Our firm can assist you in all aspects of your claim, including initial filing and appealing denied claims. We can also help you bring a third-party personal injury claim if your injuries are not covered by workers' compensation.
We assist clients who have suffered all types of work-related injuries, including:
Construction and worksite accident injuries
Lower back injuries
Neck and shoulder injuries
Traumatic brain injuries
Broken bones
Repetitive motion injuries
---
Please contact Tucker Griffin Barnes at (540) 328-2808 to discuss your workers' compensation claim with a member of our legal team.
---
What Our Work Means
A Vigorous Commitment to Lower Costs

We work hard to keep our rates lower than our peers.

A Dedicated Focus on Client Service

We promptly return phone calls, provide play areas for your children during office visits, and when you need us, we'll visit you at home or at the hospital.

A Deep Knowledge of the Law

Expertise matters. Most of our attorneys concentrate in only one or two areas of the law.

A Strong Reputation

We're respected attorneys who live to fight and win for our clients.
Consultations Available
Take The Next Step
Whether you have questions or you're ready to get started, our legal team is ready to help. Complete our form below or call us at (540) 328-2808.